TrueType fonts/OpenType fonts, which can also be used for printed matter, are fonts that can best represent the features of the typeface and the beauty of the characters. They support a large number of platforms such as Windows, iOS, and Android, and can be used with a variety of items such as printers, software, information terminal equipment, acoustic equipment, electronic shelf labels, gaming devices, medical equipment, industrial products, and ASPs.
Embedding Fonts
Quotes
Lending of the evaluation version
More information on the products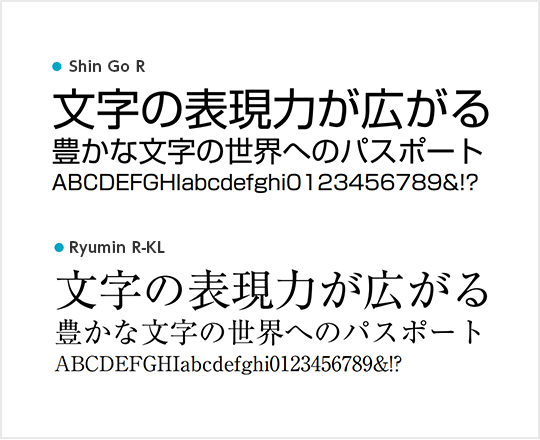 ---
Uses
Display of characters in a range of sizes ranging from small to large
Use with a system that has a rasterizer as standard
If you want to use an elaborate character design.
Features
Can function with the default rasterizer of an OS or a general-purpose rasterizer.
Offers a wide variation of typefaces.
TrueType
This font format is used as standard on a number of platforms including Windows, Android, and Linux.
Because TrueType facilitates character set extensions, character sets suited to communication methods and the characteristics of target devices are standardized in each of a variety of industrial fields. We offer attractive, Morisawa-quality typefaces with character sets suitable for industry standards.
OpenType
This font format is used as standard with iOS and Mac OS X. It offers a character set that is compliant with Adobe-Japan, with all of the selected letter shapes required for printing and publication. It is available in versions that cover levels from 1 and 2 up to 3 and 4.