Morisawa's Universal Design Fonts Featured in Over 90% of Nikkei 225 Investor Relations Documents
A study has revealed that Morisawa Inc.'s (president and CEO: Akihiko Morisawa; headquarters: 2-6-25 Shikitsu Higashi, Naniwa-ku, Osaka; Main: 06-6649-2151; "Morisawa" hereafter) Universal Design (UD) fonts have been used in the proxy statements of over 90 percent of Nikkei 225 Index businesses.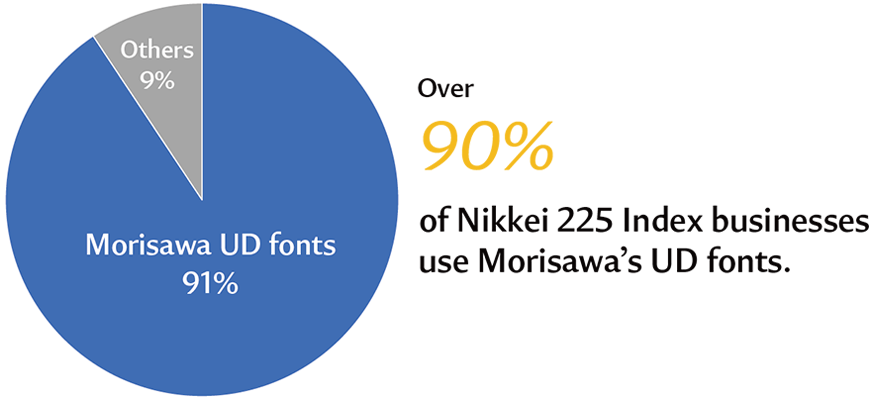 Investor relations documents are viewed by people with a variety of backgrounds including those who suffer from visual disorders and seniors who have difficulties with small print due to presbyopia. Also, a shift to easy-to-read universal design for disseminating information aids in achieving sustainable design goals. Legibility and digestibility are important priorities for Investor relations documents.
Morisawa UD fonts were created based on Universal Design principles that emphasize legibility. The fonts were developed with three goals in mind—easy-to-see letter shapes, readable sentences, and a reduction in misreading—and were designed through the use of extensive end-user evaluations. Past studies of the benefits of UD fonts have shown that they minimize misreading and improve reading speed of those who are over 40-years of age, thus exhibiting potential economic benefits for corporations.
In all, the study of investor relations documents, revealed that 204 businesses, or 91 percent of Nikkei 225 corporations, are using UD fonts. The font employed most often is "UD Shin Go NT," which is suitable for typesetting long sentences. Also used were "UD Reimin," "UD Shin Go," and "UD Shin Maru Go."
Morisawa will continue to respond to the needs of society and to work to solve problems. It is our mission to benefit all communities through our work, including UD font development as well as other products and services.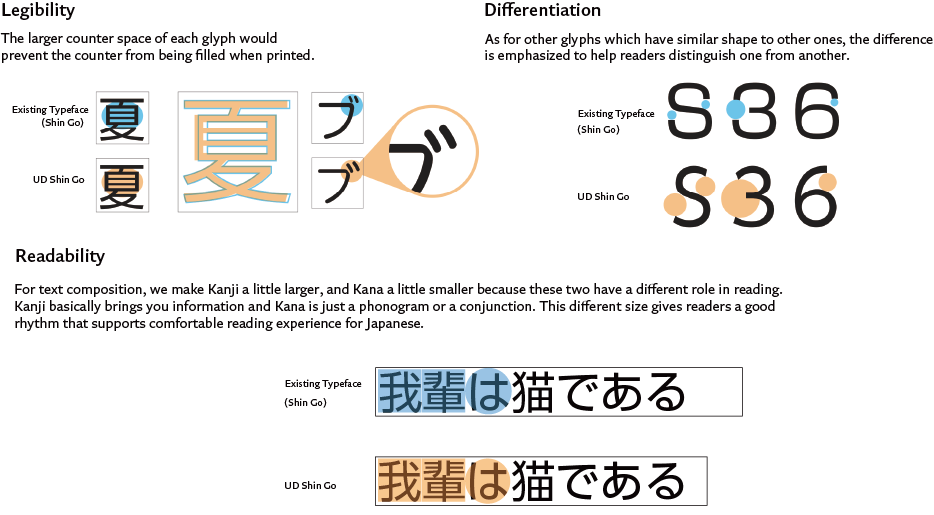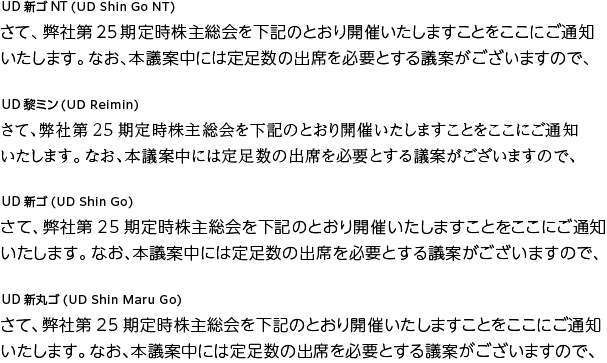 Research Summary
Research Conducted: July, 2020
Target: Nikkei 225 Index Businesses (as of July 2020)
Research Methodology: Fonts from 225 public proxy statements were evaluated either via font properties in PDF or visually.
Research Results
Out of 225 proxy statements, 91 percent, or 204 businesses, used Morisawa UD fonts. The breakdown is as follows: UD Shin Go NT in 196 statements (87%); UD Reimin in 111 statements (49%); UD Shin Go in 66 statements (29%); UD Shin Maru Go in 17 statements (8%).
* Includes cases that a corporation uses more than one font.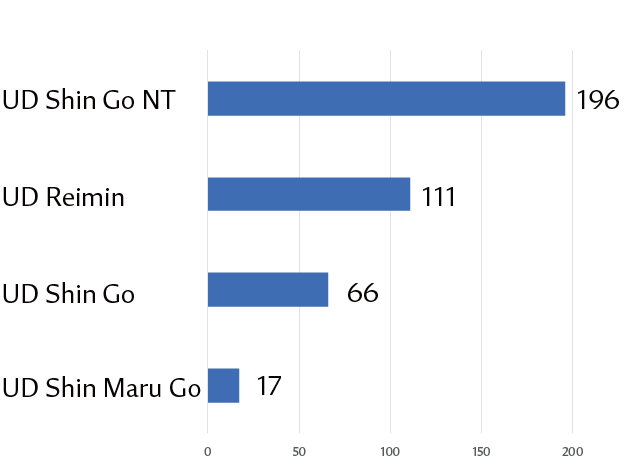 Also 170 businesses, or 76 percent, of all 225 businesses used UD font marks.

"Morisawa USA is a font consulting firm"
We want nothing more than to help you express your feelings and emotions through words, and in a variety of delivery methods. With our extensive selection of fonts, we can aid you in projecting your ideas, messages and products into the world. Let us help you communicate your passion.