Introducing 20 new typefaces on TypeSquare
The web font service TypeSquare will release new fonts on Month, date, 2020, including eye-catching Japanese display typefaces, multiscript serif family, and new body text serif fonts.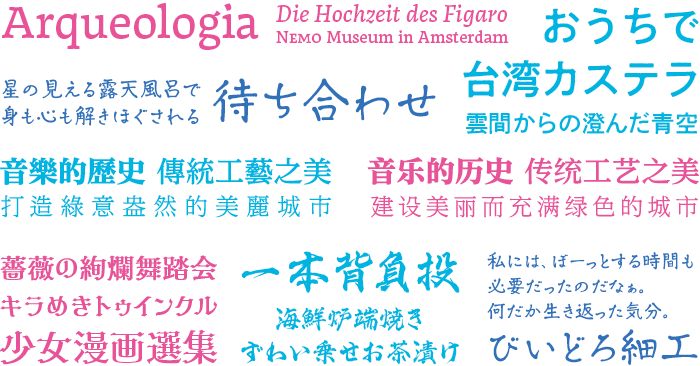 The lineups that enrich your expressions and expand your creative fields are:
・Kensen, a dynamic brush script type.
・Kokin Kyokana and Kokin Yukana, soft and friendly script types.
・Shuei Nijimi Kaku Gothic Gold* and Shuei Nijimi Kaku Gothic Silver*, sans-serif types that reproduce ink spread on paper in letterpress printing.
・Multiscript extension of UD Reimin Simplified Chinese and UD Reimin Traditional Chinese.
・Red Alice*, a retro-modern display type.
・Vonk*, a contemporary serif text typeface that won the Morisawa Award Gold Prize and the Akashi Award in the Latin Category at the Morisawa Type Design Competition 2016.
Release date:
 Monday, June 29, 2020

Applicable products:
 Web Font Service TypeSquare
 Desktop Font Service TypeSquare
   *Please note that Desktop Font Service for these fonts is not applicable.
Release typefaces:
 Kensen     
 Kokin Kyokana     
 Kokin Yukana     
 Shuei Nijimi Kaku Gothic Gold*     
 Shuei Nijimi Kaku Gothic Silver*     
 UD Reimin Simplified Chinese Light / Regular / Medium / Bold / Extra Bold/ Heavy    
 UD Reimin Traditional Chinese Light / Regular / Medium / Bold / Extra Bold/ Heavy
 Red Alice*    
 Vonk* Regular/Regular Italic